There is an alternative leaver form for employers who do not currently download and re-upload the leaver form on the same day.
A template form is available to be used internally at your end to complete and arrange for checking/sign off ahead of uploading to ESS. Then when the leaver form is ready to be made live on ESS, the alternative leaver form is created so that you can copy and paste the details from yours to the ESS version.
Completing the leaver form
Please refer to the guidance on our website for help with completion of the leaver form
Download the ESSLEAVERFORM2 template – the employer name and members details will be pre-populated when created in ESS but we have included them on the template for your information and records.
Complete all the required sections on the website template and arrange for checking if required
When you are ready to upload the leaver form, log in to Employer Self Service
Through Member Search, find the record for the employment the member is leaving
Select 'Documentation' from the menu then 'Generate Member Documents'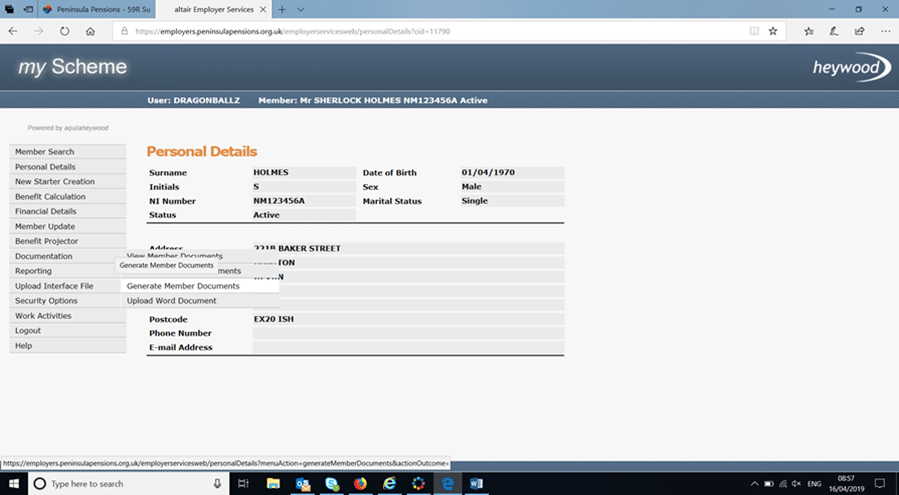 On the next screen, select ESSLVRFM2 from the dropdown list and click 'Submit'

This will create the template leaver form on the member's record ready for you to edit and upload. It's important that you create the form so that altair knows to expect it – simply uploading a file to ESS will not work in the same way.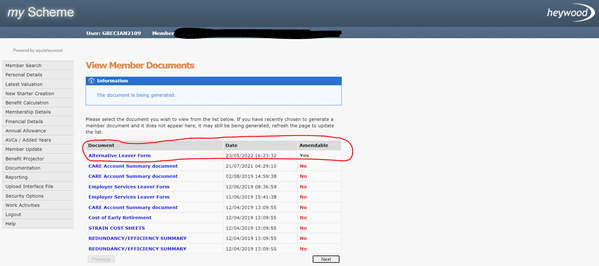 Click on the document and choose 'Save as' to save the document to your local drive/folder.
Important – You must not change the name of the document when saving it – altair will not accept the form if the document name has been changed.
Go to your local drive/folder where you have saved the form and open it – the picture below shows how the ESSLVRFM2 will appear once opened. The employer name and members details will be pre-populated when created: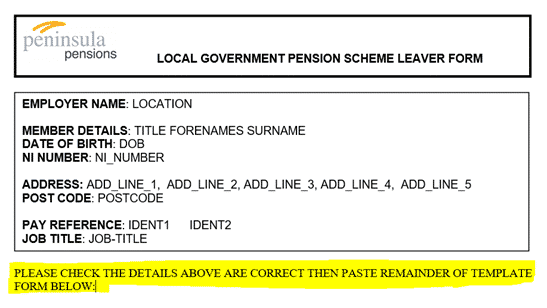 Copy all the boxes below the members details from your template and paste onto the ESSLVRFM2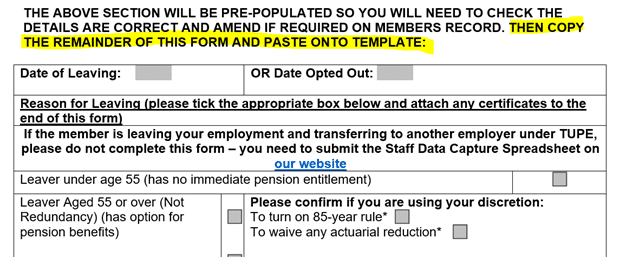 Once completed, save the form again to retain your changes whilst keeping the same document name
To note – the document name ends with ']]' so you will need to delete any numbers/letters Word may have added add to the end of the document name
Next, you need to upload the saved document to the member's record
Select 'Documentation' from the menu then 'Upload Word document'
Click on browse and find the completed leaver form you saved
Click the 'Upload' button
The leaver form is now attached to the member's record and available to view.